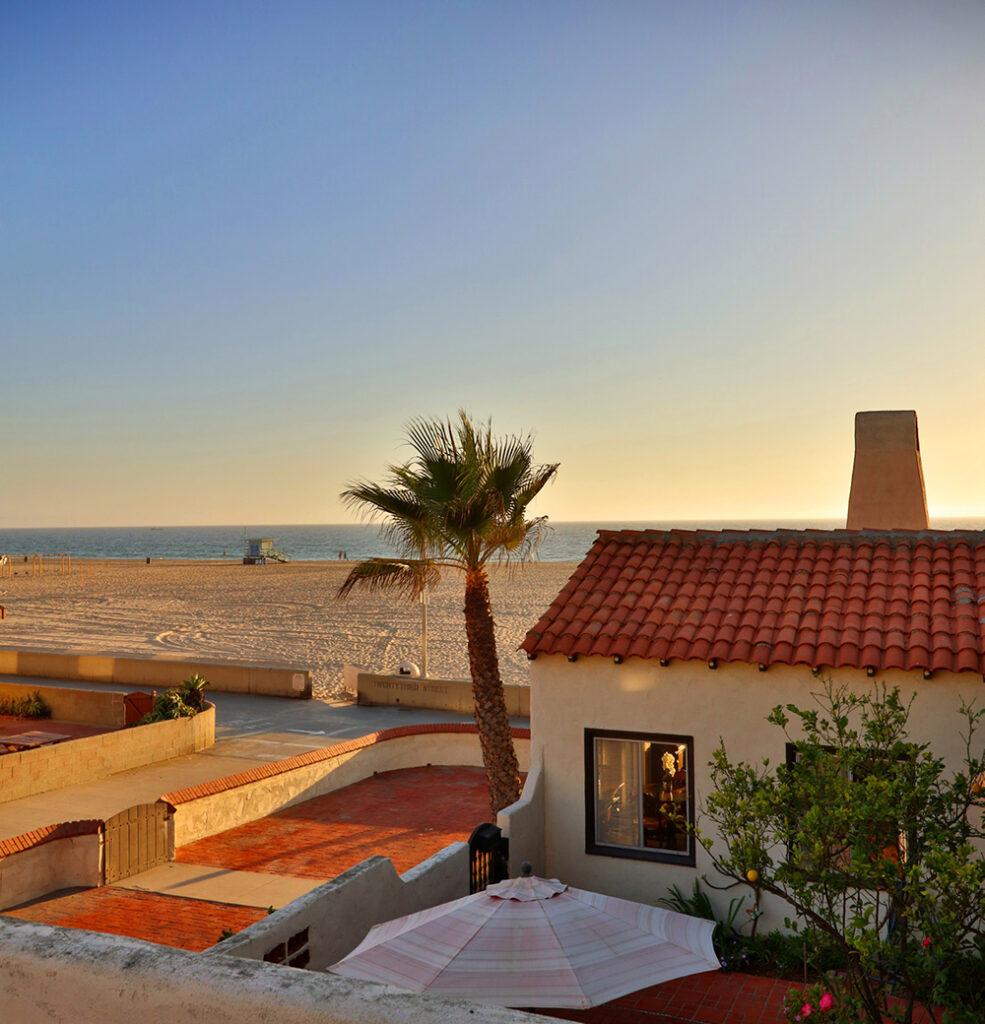 A historic Hermosa Beach home on The Strand offers unsurpassed vistas and the rare opportunity of ownership
Rarely is there an opportunity like this: For the first time in 70 years, the home and oversized corner lot at 2302 The Strand in Hermosa Beach is on the market. Well-known to the community, this gem has served as the beach home for the Wright family since the 1950s.
"This home was our treasure, where we spent every summer from June to Labor Day with my siblings, family and friends. We lived in Los Angeles when we were younger and this was our beach house until we moved here full time" shares Roger Wright, one of the Wright's seven children.
"This is a remarkable generational home," notes Realtor Nick Schneider. "When a family keeps a home for so many years, it is clear just how special that place is." One that offers tremendous potential for the ideal buyer.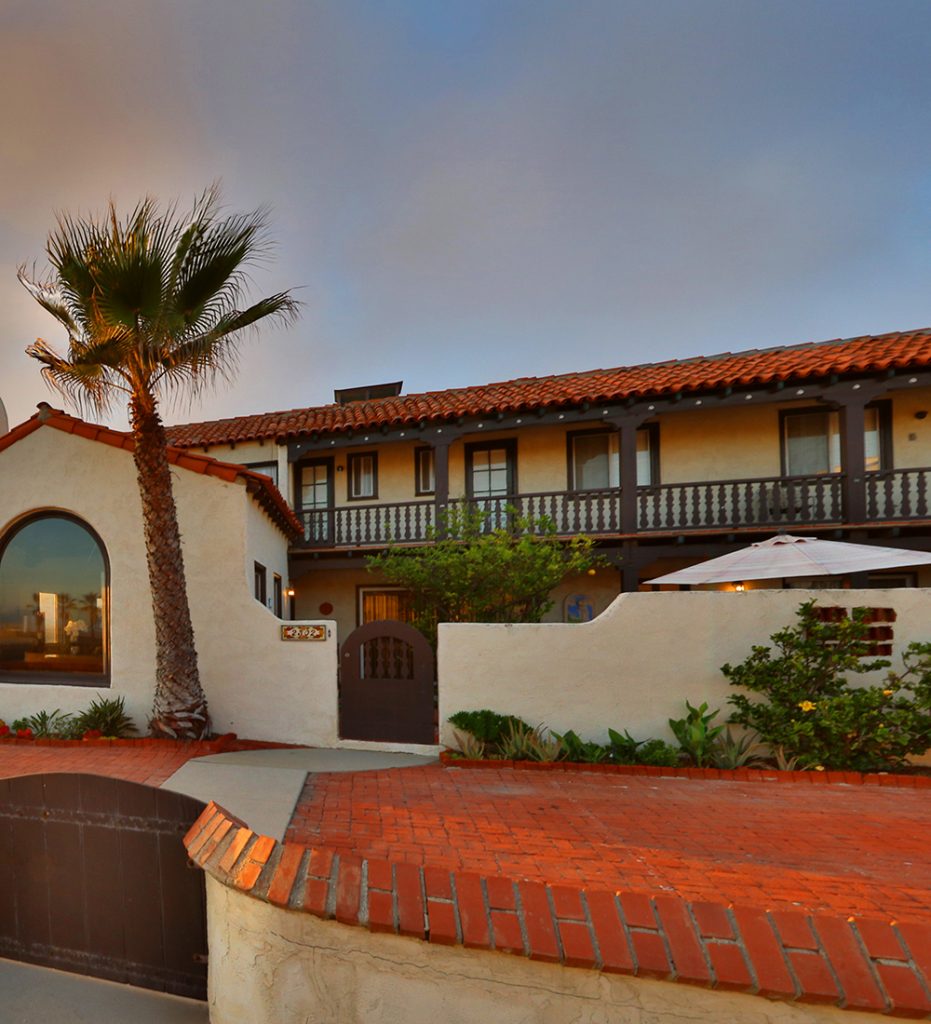 "Whether restoring this home to its original splendor and adding modern touches or designing a completely new build, this type of home is where family traditions are started and kept for generations," adds Schneider.
This Spanish Mission style home with traditional influences is laid out for an almost hotel-like feel, with a courtyard for private entertaining. Singular to most properties on The Strand is the home's massive outdoor space that has been used for outdoor living as well as for parking up to 10 cars. "The home also has such a unique footprint," explains Schneider. "Unlike the set back on The Strand for new builds, this home comes right up to the edge so north-facing views are unobstructed from both floors inside."
Situated on the north corner, the home's residents enjoy white water views to Palos Verdes, Catalina and all the way up the coast to Malibu. Extraordinary landscapes and picturesque scenes of the famous Hermosa Pier and Manhattan Beach Pier mesmerize the viewer. Meanwhile, explains Schneider, "from 22nd Street to 24th Street in Hermosa, you have an almost private inlet; it's the shortest walk street from Beach Drive to Hermosa Avenue, plus with the one-way alley, there is rarely any drive through traffic."
The iconic five-bedroom and three and a half bath home offers 2,900 square feet of living space. Exterior touches—a terra cotta roof, wooden trestles and exterior staircase—capture a traditional feel, while white stucco, an arched chimney and rounded architectural features bring in the Mission influence. Terra cotta tiles pave the way to the historic, carved wood front door rich in design and steeped in tradition.
Due to the home's L-shaped floor-plan, every bedroom and all common areas offer ocean and beach views. While sipping a cold beverage in the private courtyard, indulging the gorgeous vistas of sand and sea is commonplace, but always revered.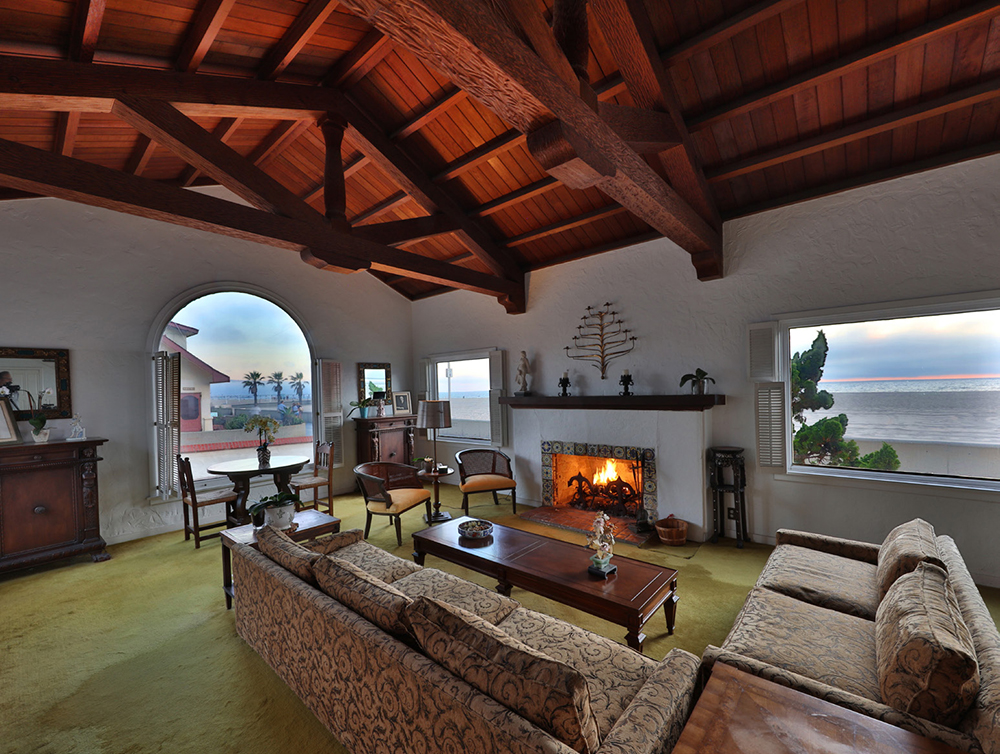 "One of the most desired locations at the beach is on the north side and southwest facing because you get the sunrise and sunset views, both of which this home has!" states Schneider.
The home's lower level welcomes one into a large great room crowned by rich beamed ceilings, statement-making etched wood trestles, and classic white mission walls. Also included on this floor are the dining room, den, guest bedroom with en-suite bath and kitchen—the latter conveniently located, adjacent to the courtyard and perfect for entertaining.
"Whether restoring this home to its original splendor and adding modern touches or designing a completely new build, this type of home is where family traditions are started and kept for generations."
Well-planned are dual entries from the beach: one on the north side of the home, accessed by gate from The Strand, and the second through the garage entrance in the courtyard. By way of the two-car garage, the owners added an indoor cabana or shower/changing room. Bright yellow bead-board cabanas will get the attention of sandy kids and guests entering from the beach. These two cabanas each house a changing room and shower.
The upper level of the home is accessible via interior or exterior staircases. On this floor are four bedrooms; all of good size. Two different Jack-n-Jill baths connect each room. These rooms also have an exterior door that provides access to the balcony and outside staircase; a unique feature, excellent for visiting family and friends. Inside, the long hallway is dotted with multiple windows offering ample light and ocean views.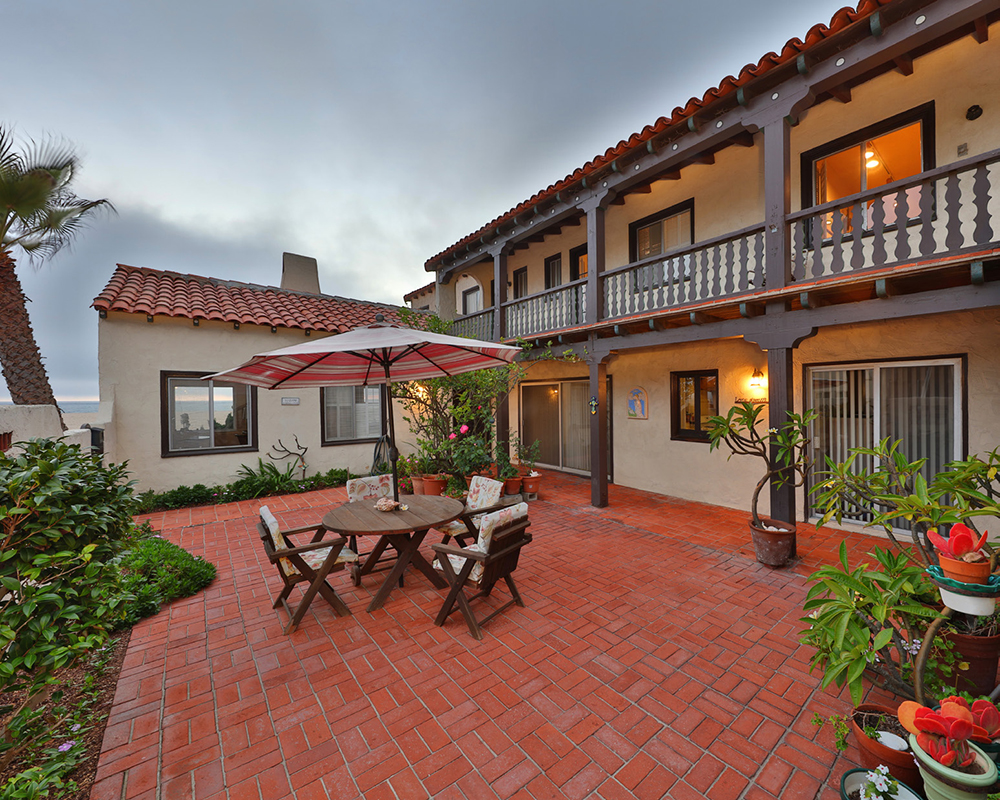 Conveniently nearby the house is The Green Store, The Bottle Inn and Martha's, all just one block away. Volleyball courts and swing sets are steps away on the sand. Plus, the home's central location makes for an easy walk south to Hermosa Beach's Pier Avenue or north to Manhattan Beach's adorable downtown. Both areas are lively hot spots filled with restaurants, bars and boutique shopping.
Kids who grow up in Hermosa attend one of two great public schools for elementary and middle school, and choose between Mira Costa in Manhattan Beach or Redondo Union for High School. Hermosa Beach is also home to fun family and adult activities like Fiesta Hermosa, the concert series on the beach and the AVP Hermosa Beach Open.
Given that all of these attributes are in this home's backyard, where, as Schneider puts it, "family traditions are started and kept for generations," 2302 The Strand is truly a one-of-a-kind home, property and location in one of the most beautiful cities and beach communities in the country.
Presented by
Nick Schneider of Palm Realty Boutique
310.809.4875 | List Price $14,850,000 Million